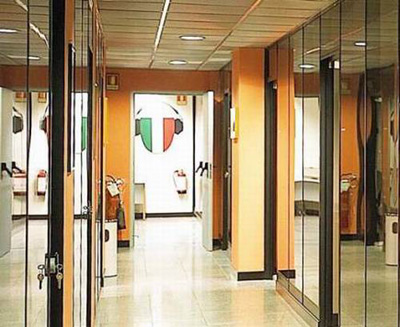 Modular System
S.M. is a company that studies, designs and executes civil and industrial sound-proofing.
We are specialized in the musical applications of this world: we carried out a number of control rooms, rehearsal rooms and recording studios all over Italy.

Many important Italian radio stations and famous musicians are satisfied Customers of ours.

Our team of skilled technicians, architects and acoustic engineers tries to satisfy all of our Customers requests.
To sound-proof a room we have to consider all the frequencies that distinguish a sound or a noise. Many materials have sound-proofing proprieties, but a good insulation system is obtainable only by combining different materials according to accurate studies and specific technologies.

Functionality, rationality and beauty are our objectives when we deal with space: safe, comfortable and acoustically proper environments are the results we obtain. We realize big and small projects, taking care of the quality level of every detail. We use technological advanced and ecological materials to create safe and long lasting rooms using advanced technical building solutions. We operate all over Italy and Europe.
We offer you our experience and skills, the respect of the scheduled timetables, of the existing laws and of the agreed budgets.